In the Servicedesk module in More Service, you can register the following case types directly from the start view.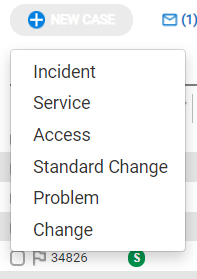 Incident, Services, Accesses, and Standard Change will take you to the same registration form.
For Problems and Access, there are separate registration forms according to ITIL.
 
If you want to change the case type inside a single item, click the case type icon at the top of the corner:



 
 
Subject and user information are required fields.  Depending on configuration in Admin tab, there may also be other required fields (e.g item and category).
 
Required fields are highlighted in red if they are not filled when you try to save.
 
 
Once you have filled in all required fields, the «Save» and «Save and Close» buttons will be active / green. When you save the case, it gets a case number.