Changes
More Service Portal
More Service Portal settings have been moved to

Settings → More Service Portal → Portal settings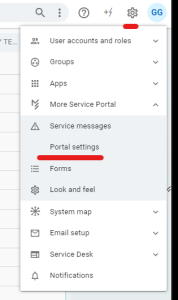 New function save draft
Options to save log and e-mail as drafts.
Enter in work log. Save the log as a draft.
The draft appears in the case log marked yellow



Edit the draft by tapping the pen in the log.



Then I save the log The log is only displayed as saved, when you have saved the case.


New feature


Possebility in Notification Indcident, Service request and access
Turn off automatic emails when making new case.
Turn off automatic emails when a case is completed




Fixes 10.1.6-26
If you selected "Reply to all", addressees did not appear under copy

Inproved seach to support upper and lower case

Added functionality for including location in name for asset

Fixet multiceslect on customer colum in Servicedesk overview

Added material ui buttons to inbox
Moved "create incident type" from case info to button row for inbox
Fixed so that register case from portal supports dispatcher with value 0
Fixed problem with including schema when merging cases from inbox
Fixed customer name in inbox details
Added base support for isSuperUser on end user card
Added support for reopening and closing case for superuserr 
Added phone to agent excel export
Phone number added to user excel export

More Service Portal for users/customer

Removing order badge and sidemenu if there are no forms

Changed state from wait state to started when adding comment

Fixedt Automatic case flow to team and e-mail to team member
The portal's cases have had their case numbers changed to blue links so that they appear more clickable.

Approved

20 MB

attachments to the case in the end-user portal

Added base support for showing attachments on faq's on user portal

Fix More Service Portal enduser:Added confirmation box when registering case above faq suggestions
Added color to the invisible feedback button for feedback smiley face
portal-search-faq-broken-pictures,  highlightning removed in discription and solution